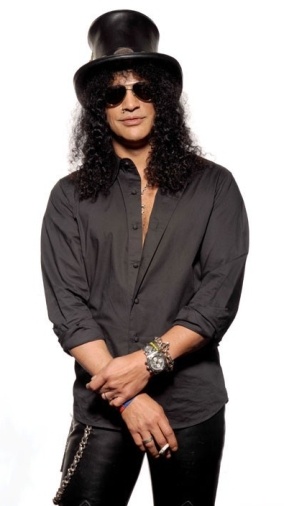 Nom civil
: Saul Hudson.


Date de naissance
: 23 juillet 1965.


Lieu de naissance
: Stoke-On-Trent (Staffordshire, Angleterre).


Père
: Anthony Hudson, graphiste.


Mère
: Ola Hudson, styliste, décédée en 2009.


Epouse
: marié à Perla Ferrar depuis le 15 octobre 2001.


Enfants
: deux fils, London Emilio et Cash Anthony.


Groupes
: Tidus Sloan, Black Sheep, London, Road Crew, Hollywood Rose, Guns N' Roses, Slash's Snakepit, Slash's Blues Ball, Velvet Revolver.


Influences
: Aerosmith, Led Zeppelin, Cheap Trick, UFO, The Rolling Stones, The Who, Alice Cooper, ACDC, Pink Floyd, Queen, Deep Purple, Black Sabbath, Nazareth, Fear, T-Rex, Jeff Beck, Jimi Hendrix, Tool, Alice In Chains, Soundgarden, Rage Against The Machine, Kid Rock...


Animaux familiers
: Slash adore les reptiles et en particulier les serpents. Il en possédait plusieurs centaines à une époque.


Flippers
: Slash est un grand fan de flippers. Il a d'ailleurs participé à l'élaboration d'un flipper consacré à Guns N' Roses.